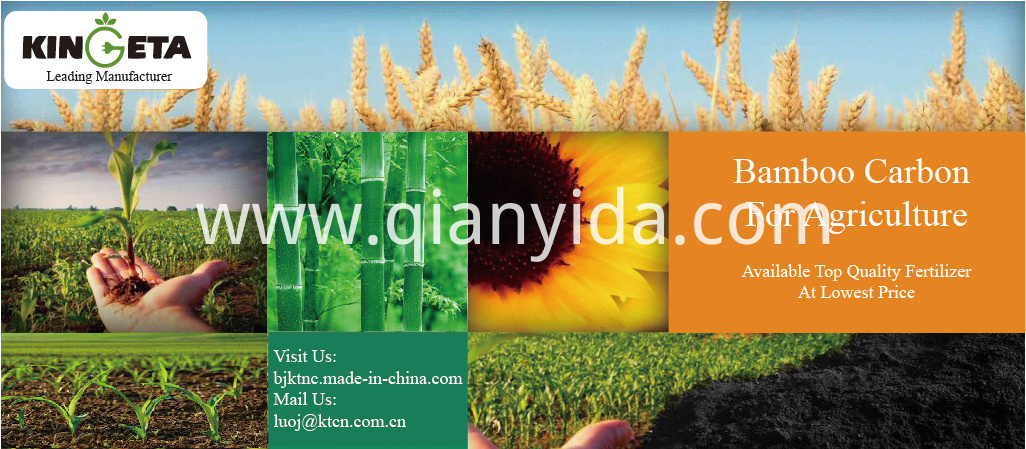 Introduction
The

Bamboo Biochar Compound Microbial Fertilizer

, used High Quality organic matter as raw material in particular added Fulvic Acid as a kind of Humic Acid, cooperate with a sufficient amount of nitrogen, phosphorus and potassium, and Wood Vinegar to increase the disease resistance ability.
Why chose Biochar fertilizer?
As we know, the composition of soil are solid, air and moisture. The main part of solid are the mineral particles and organic matter (from the live and debris of plants, animals and microorganisms).
The ideal soil has solid 50%, air 25% and moisture 25%. The rate of mineral in the solid is 45%, the remaining 5% is organic matter which is including the 10% biological organic matter, 10% root organic matter and 80% has been transformed into a stable polymer residual organic matter.
Effect on Soil Fertility
The 5% organic matter is the core of soil vitality. It is the only part that can influence the soil healthy and can be adjusted by human. Because biochar itself is the storage of nutrients, simultaneously effect on the physical and chemical properties of soil. It is estimated that 1% of the soil organic matter is equivalent to containing 109kg of nutrients/acre. When the soil organic matter decreased from 2% to 1.5%, the soil fertility will decrease 14%.
Effect on Soil Moisture Storage
Also, it effects on the moisture storage of soil, the 1 acre * 1inch soil with 2% organic matter can storage 121,000L water. If the soil organic matter content increased to 5% or 8%, the water storage is 303,000L and 485,000L. The research shows, the content of soil organic matter increase from 1% to 3%, the moisture storage ability will increase 6 times.
Effect on the Soil Texture & Structure
With the abundant organic matter in Soil, it can be formed a stable organic-inorganic complex in a large amount. Has a favorable soil structure can resistance to soil erosion, and provide the ideal conditions of moisture and air to root.
The Carbon & Energy Supplier of Microorganisms
The soil formed a huge food web with the abundant organic matter, to build a healthy ecosystem. It is the source of soil vitality. It has very important effect from the nutrient conversion to pest control.
Specification
Brand

Product

Executive Standard

Specification

KINGETA

Carbon-Based Organic Fertilizer

NY525-2012

N+P2O5+K2O

>=5%

Organic Matter

>=45%

Biochar

>=35%

WSOC

>=5%

Pyroligneous Acid

>=10%
Note: 1. Can do special formula fertilizer as your request.

2. Customized the Content of N, P, K, and the types of bacteria species.
Product Features:
1. Increase the soil Organic Matter content:Repair soil ecology, return crop natural characteristics, promote root system developed, fast nitrogen fixation, dissolving phosphorus, dissolving potassium, promoting fertilizer absorption, and greatly improving soil fertility.
2. Adjust Soil PH:Rich in high quality and high activity of organic matter, improve soil water retention and fertilizer performance, get rid of soil compaction, free deep plowing.
3. Bamboo Wood Vinegar:Inhibit the reproduction of microorganisms that impede plant growth, protect the soil beneficial microorganisms.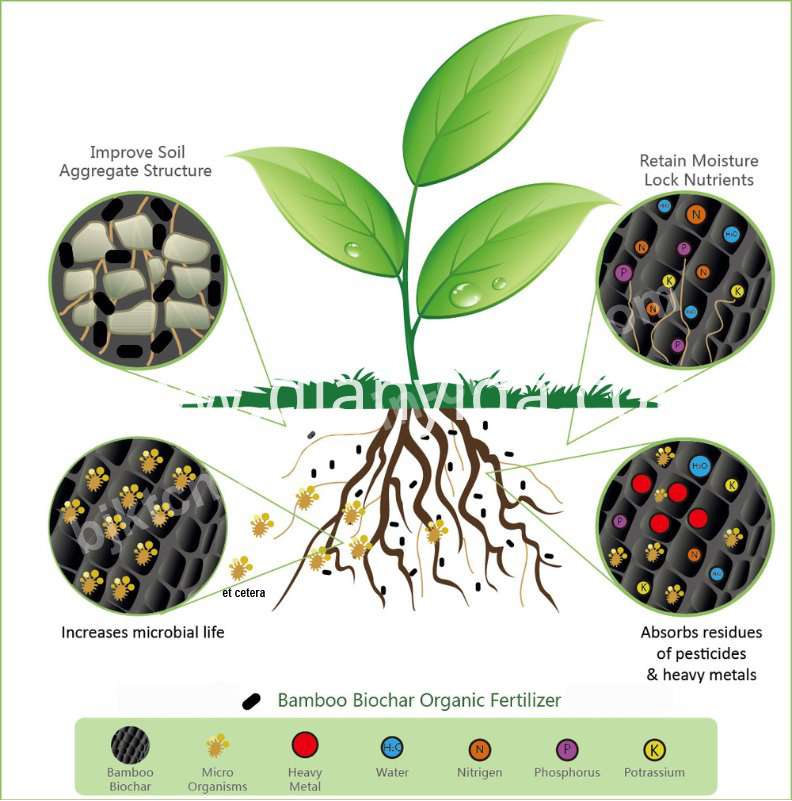 Related Products
Brand

Product

Executive Standard

Specification

KINGETA




Carbon Based Compound Microbial Fertilizer

NY/T 798-2015

N+P2O5+K2O

>=8%

Organic Matter

>=35%

CFU

>=50M/g

Organic Carbon

>=20%

WSOC

>=5%

Fish Protein

>=0.4%

Fulvic Acid

>=10%

Bamboo Charcoal Microbial Agent

GB20287-2006

N+P2O5+K2O

>=5%

Organic Matter

>=45%

CFU

>=200M/g

Biochar

>=20%

WSOC

>=5%

Fish Protein

>=0.6%

Fulvic Acid

>=10%

Bamboo Charcoal Soil Conditioner

NY/T3034-2016

N+P2O5+K2O

>=5%

Organic Matter

>=50%

Biochar

>=20%

WSOC

>=5%

Fulvic Acid

>=10%

CFU

>=200M/g

Ca

>=3%

Mg

>=0.3%

Si

>=2%

Carbon Based Biological Organic Fertilizer

NY/T 884-2012

N+P2O5+K2O

>=5%

Organic Matter

>=40%

CFU

>=200M/g

Biochar

>=20%

WSOC

>=5%

Fulvic Acid

>=10%

Aquasorb

>=0.2%
Appllication & Storage

Applicable to Fruits, Vegetables, Fruit trees, Herbs, Tea, Grain and oil, Seedlings, Flowers, Field crop and other crops.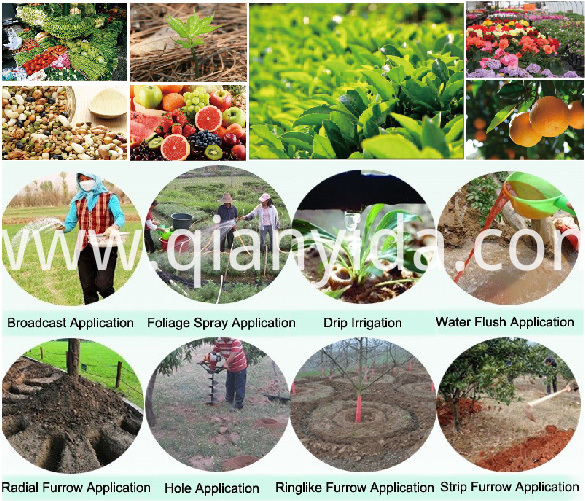 Mainly Usage::

Apply to field crops and economic crops, can be used as basic fertilizer and topdressing. Dosage is 1500kg/Ha - 4500kg/Ha per time.

Appropriate use fertilizer according to the different crop, different time, the soil fertility and the fertilization habits, to increase the crop yield with scientific application
Storage:

1. Stored in cool & dry place for two years.

2. Can be used with other fertilizers, but must not be used with unfermented composts, bactericides, alkaline pesticides
3. May be harmful if swallowed. Keep children, pets and livestock away when applying the product.
Our Services:
Offer OEM or ODM service.
Offer fertilizer sample for free to test.
Help you in selecting the right product for your application.
Provide you comprehensive and cutting-edage product offering .
Provide the highest level of customer suervice,competitive pricing and speed delivery .
Company profile
Established in 2004, Fujian LongChuang Agriculture Technology Co.,Ltd is wholly owned subsidiary of Kingeta Group Co., Ltd(Stock code 831999). We are a professional fertilizer manufacture and exporter that is concerned with research, development and production of carbon-based fertilizer.Covering an area of 25 acres, we have over 200 employees, an annual capacity that exceeds 200.000 ton.
Our well equipped facilities and excellent quality control throughout all stages of production enable us to guarantee total customers' satisfaction.Besides,we have received certificate of ISO9001 and had been certificated by SGS. Long-term cooperation with research institutes, like Tianjin University and Life Sciences College of Hebei Normal University, we have a leading technology in the field of carbon and carbon-based fertilizer. Especially in order to better serve the production, we have set up our own R & D center in the factory in 2017, which is lead by Professor Sheng, the first person in the carbon-based fertilizer.
If your are interested in any of our products or would like to discuss a custom order, please feel free to contact us. We are looking forward to forming successful business relationships with new clients around the world in the near future
.
.
For more information , please browse our group's website, http://en.ktcn888.com/, stock code: 831999

Looking for ideal Biochar Fertilizer Application Manufacturer & supplier ? We have a wide selection at great prices to help you get creative. All the Lawn Organic Fertilizr are quality guaranteed. We are China Origin Factory of Seek Biochar Fertilizer. If you have any question, please feel free to contact us.
Product Categories : Organic Fertilizer > Organic Biochar Microbial Fertilizer